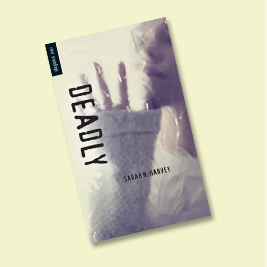 DEADLY
(2013) Orca Book Publishers
ISBN: 9781459803640


I'm starting to feel dizzy again—and scared. I need to sit down. I make my way slowly to the table and collapse into the moulded plastic chair. On the table is something I hadn't noticed before: a white envelope. With my name on it.
Amy and Eric are the perfect couple. Popular, good-looking, happy. But after they are seen quarreling at a party, Amy disappears and Eric is the number-one suspect. Amy wakes up alone in a windowless, all-white room. She has no idea how she got there, or who put her there. All she knows is that she has to get out. Eric wakes up to news of Amy's disappearance—and a visit from the police. All he knows is that he didn't do it, and that he has to find Amy.
As Amy tries to figure out a way to escape, she must also follow the instructions in a bizarre letter from her kidnapper. And as Eric tries to figure out where Amy is and who took her, he discovers that the past has a way of coming back and biting you in the butt.
Told in alternating voices—first Amy's, then Eric's—Deadly is a fast-paced story about love, hate, courage, tenacity, forgiveness—and the many uses of a toilet rod.